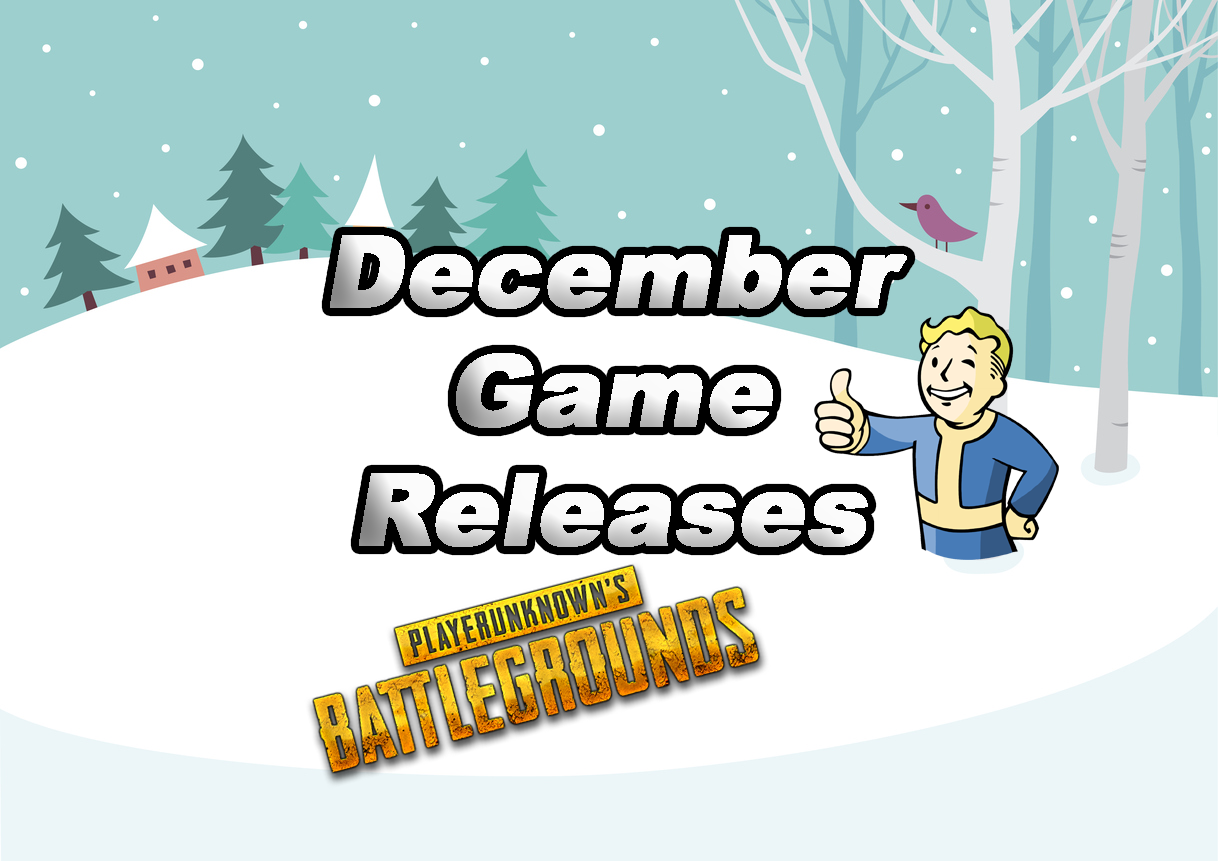 Do you know what December game releases your going to buy in time for that long holiday break? NO?! That's alright, Gigamax has your back. It can be hard to keep up with all the intense holiday planning and latest video game news, that's why we've taken the liberty of curating the perfect list of December game releases. Whether you're buying them as presents or for yourself, this is everything you'll need to keep your eye on.
December Game Releases
Xenoblade Chronicles 2
The world of Alrest has never been less at rest! This latest installment of the Xenoblade series follows the adventure of Rex after he is magically bonded with the humanoid weapon, Pyra. This "blade" is one of the many sentient weapons our hero makes friends with along the journey. One of Nintendo's biggest releases this year, it is sure to please. If you enjoy JRPG's and hours of quests, definitely don't pass this title up.
Fallout 4 VR
Bethesda claims they don't want to set the world on fire, but one can argue this release will figuratively do that. Enter the wasteland in the most personal way available. This reskinned journey takes down the barrier and puts you in the shoes of the sole survivor. Fallout 4 VR is sure to please any fan of this incredible series but it isn't our fault if seeing a Deathclaw gives you an actual heart attack.
Playerunknown's Battlegrounds
It's finally time for console players to experience this gaming phenomenon! PUBG is making its way to the Xbox and opens up chicken dinners to a whole new community. This game started a revolution of "Battle Royale" simulators and its player base has literally not stopped growing since it came out. This game is the perfect addition to any fan of FPS or third person shooters list, but remember once you're on the battleground the only rule is survival… And a whole list of other nonsense.
Full List of December Game Releases
Doom VFR (PSVR, Vive) – December 1
Gear Club (Switch) – December 1
Xenoblade Chronicles 2 (Switch) – December 1
Dead Rising 4: Frank's Big Package (PS4) – December 5
Steep – Road to the Olympics (PS4, Xbox One, PC) – December 5
Destiny 2: Curse of Osiris – December 5
Bravo Team (PSVR) – December 6
Reigns: Her Majesty (PC, iOS, Android) – December 7
Hello Neighbor (Xbox One, PC) – December 8
Loco Roco 2 Remastered (PS4) – December 9
Fallout 4 VR (Vive) – December 12
PlayerUnknown's Battlegrounds (Xbox One) – December 12
Resident Evil 7: Gold Edition (PS4, Xbox One, PC) – December 12
Okami HD (PS4, Xbox One, PC) – December 12
Tiny Metal (PS4, Switch, PC) – December 21