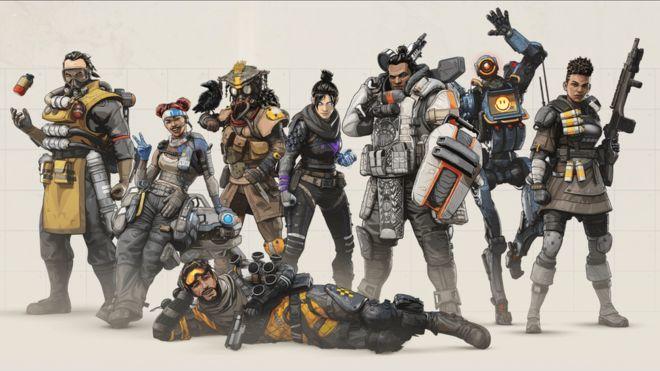 In February, Apex Legends dethroned Fortnite on Twitch as the most-viewed video game on the platform, solidifying its position as the new hotness in the increasingly crowded Battle Royale genre. Apex Legends boasts a roster of 8 unique characters each with their own roles and skillsets. Each Legend is extremely specialized, allowing you to pick and choose a character that best suits your personal playstyle – a great Lifeline main, for instance, plays the game vastly different from a skilled Wraith main – and part of the fun is trying out the different Legends and finding the one that best suits you. If you're looking to up your game and consistently rank higher in matches, we've got the tips and tricks that will help you optimize how you play your favorite Legends.
Bangalore

Professional Soldier
Bangalore is the definition of "shock and awe". Her skills are designed to induce maximum confusion, disorienting foes enough to allow for ambushes or quick getaways.
Optimizing Your Playstyle
Smoke Launcher is best used offensively. Any foes in the smoke will be scrambling to get out where your guns will be waiting.
You can smoke defensively – like when reviving an ally, looting, or recharging your shield – but keep in mind that the enemy has seen where you are and is likely waiting for you to reappear. Smart players will instinctively lob grenades into any smoke clouds they see.
Use Bangalore's Ultimate Ability, Rolling Thunder, in tandem with your smoke cloud to disrupt the flow of battle. The stun effect of Rolling Thunder is terrifying, and any enemies caught in its area will immediately run for the hills.
Bangalore's Passive Ability, Double Time gives her a speed boost when taking fire. Use your other skills to close the distance and take the fight to the enemy.
Bloodhound

Technological Tracker
Information wins wars, and Bloodhound is the ultimate intel gatherer. Geared with skills that allow your team to track and hunt enemy Legends, Bloodhound opens up possibilities for ultra-aggressive tactics.
Optimizing Your Playstyle
Communicate! Key information about enemy movements and actions can influence how your teammates play. Make sure everybody knows what you know.
Eye of the Allfather not only tells you what people have done, but how long ago they did it. Use this information to determine how you want to enter new areas or estimate how many enemies might be around.
Use your passive to chase down foes in the frenzy of battle. Nobody can escape a good Bloodhound.
Beast of the Hunt gives Bloodhound a speed boost and puts a red outline around enemies you spot. Utilize this swiftness to close long distances and flank enemies.
Caustic

Toxic Trapper
Caustic's skills center on his ability to place Nox Gas Traps, canisters of poisonous gas that distort enemy vision and slowly tick down their health. This Legend plays completely differently from the others in Apex Legends, requiring the player to stay a step ahead of foes to properly maximize the effectiveness of his skills.
Optimizing Your Playstyle
If an enemy squad has a Caustic in their lineup, focus fire him first. All Caustic's are immune to the effects of Nox Gas – he'll be the only one in his team that isn't rushing to get out of the effects of your gas.
Caustic pairs up well with Pathfinder, who can see where the next Ring will be. Use this information to prepare your traps for future scuffles.
You can throw traps on top of doors! Intermediate players will look for Nox Gas Traps at ground level, but they'll rarely look for them above. Open a door from the outside (pushing the doors inwards) and line up the trajectory line of your Gas Trap in the slight space between the door hinge and the wall.
Gibraltar

Shielded Fortress
This monstrous beefcake is a straightforward tank, providing shields to keep his friends from harm. His Passive Ability, Gun Shield means he can get up close and personal with foes, and his Ultimate Ability rains explosives from the heavens to deal massive damage.
Optimizing Your Playstyle
Medium- to long-range engagements can often turn into stalemates, where both parties are safely behind cover firing pot shots from afar. Use your Ultimate Ability, Defensive Bombardment, to force enemies out of cover. Remember, this skill is useless in caves and areas with ceilings that prevent the bombs from hitting the ground.
Your Passive, Gun Shield, is great during duels, but there's a cost: you move much slower with the shield up. Disable it when engaging from a distance and keep it active when in tight spaces.
Bullets can't enter nor escape Dome of Protection. Enemies usually attempt to enter your shield, so prepare for a close-range battle after deploying the Dome.
Lifeline
Combat Medic
Just as her name suggests, Lifeline skillset provides heals to keep your team fit and ready to fight at all times. Her Ultimate, Care Package, can give your team an early advantage equipment-wise.
Optimizing Your Playstyle
D.O.C. Heal Drone should be saved for close- to mid- range shootouts. That extra heal means your buddies can absorb a lot more bullets.
Lifeline's passive, Combat Medic, allows her to revive players 25% faster than other Legends. She also drops a shield when reviving. If enemies are around, always be sure the shield drops between you and them.
Lifeline's Ultimate Ability, Care Package, can give your team a significant equipment advantage early on. More than any other Legend, Lifeline should get top priority when it comes to Ultimate Accelerants. This ability should be used whenever it's off cooldown.
Mirage

Holographic Trickster
A sneaky gunfighter, this Legend uses holographs to distract and confuse his foes. Equipped with a great escape as his Ultimate Ability, Mirage can be a pain in the butt to track down and finish off.
Optimizing Your Playstyle
Your decoy isn't a simple static holograph. It doesn't simply run where you tell it to, but it also imitates some actions such as sliding and jumping. You can also order it to approach an item cache or banner and it will act as if it's interacting with those objects.
Use your decoy when you're behind cover to distract your enemies and buy yourself time to heal, charge your shield, or revive teammates.
Save your Ultimate Ability, Vanishing Act, for moments when you're in extreme danger. The skill cloaks you, allowing you to back off and find cover to restore your life or shield.
Pathfinder

Forward Scout
Equipped with a handy sensor that allows him to detect where the next Ring will be, Pathfinder always knows the right way to go. His trusty grappling hook lets him position himself in sneaky, hard-to-reach locations and make quick getaways when the he's in a tight spot.
Optimizing Your Playstyle
Your Grappling Hook allows you to move vertically. Use this wisely to keep yourself at a higher position than your opponent. It also allows you to position yourself to fire shots from unexpected places.
Use your Grappling Hook during battles. The verticality of Pathfinder's movement makes him a difficult target to aim at.
Pathfinder's Passive Ability, Insider's Knowledge, lets him see where the next Ring will be. This makes him a great partner for Caustic: find out where the Ring is going to be and set up Caustic's traps there.
Your Ultimate Ability, Zipline Gun, affords your squadmates the verticality that you enjoy. Use this when preparing for a firefight or for setting up ambushes.
Wraith

Interdimensional Skirmisher
Wraith's skillset promotes a full-frontal offensive style of play with the mobility to weave in and out of scuffles with ease. Her ability to cloak, making her nearly invisible, makes quick pickoffs and swift getaways a breeze.
Optimizing Your Playstyle
Your Passive Ability, Voices from the Void, will alert you when there's danger nearby. The cue is a soft whisper, however, it can be easy to miss without headphones on.
Into the Void is a fantastic utility skill. You can use it to make zoom out of danger and avoid ambushes or for flanking foes and picking off stragglers.
You can't see other players when you're using Into the Void, so keep track of where enemies are positioned before activating the skill.
If your ally has been downed, consider setting up a portal next to him and triggering the second portal a distance away. Downed allies can still use your portals. This can let them get the distance they need to allow you to revive them in relative safety.
Utilize your Ultimate Ability to weave in and out of battle zones. Legends that prefer to be stationary, like Gibraltar or Lifeline, can be picked off through smart use of portals.
Special thanks to OffGamers for the guest blog submission! Read more by OffGamers!