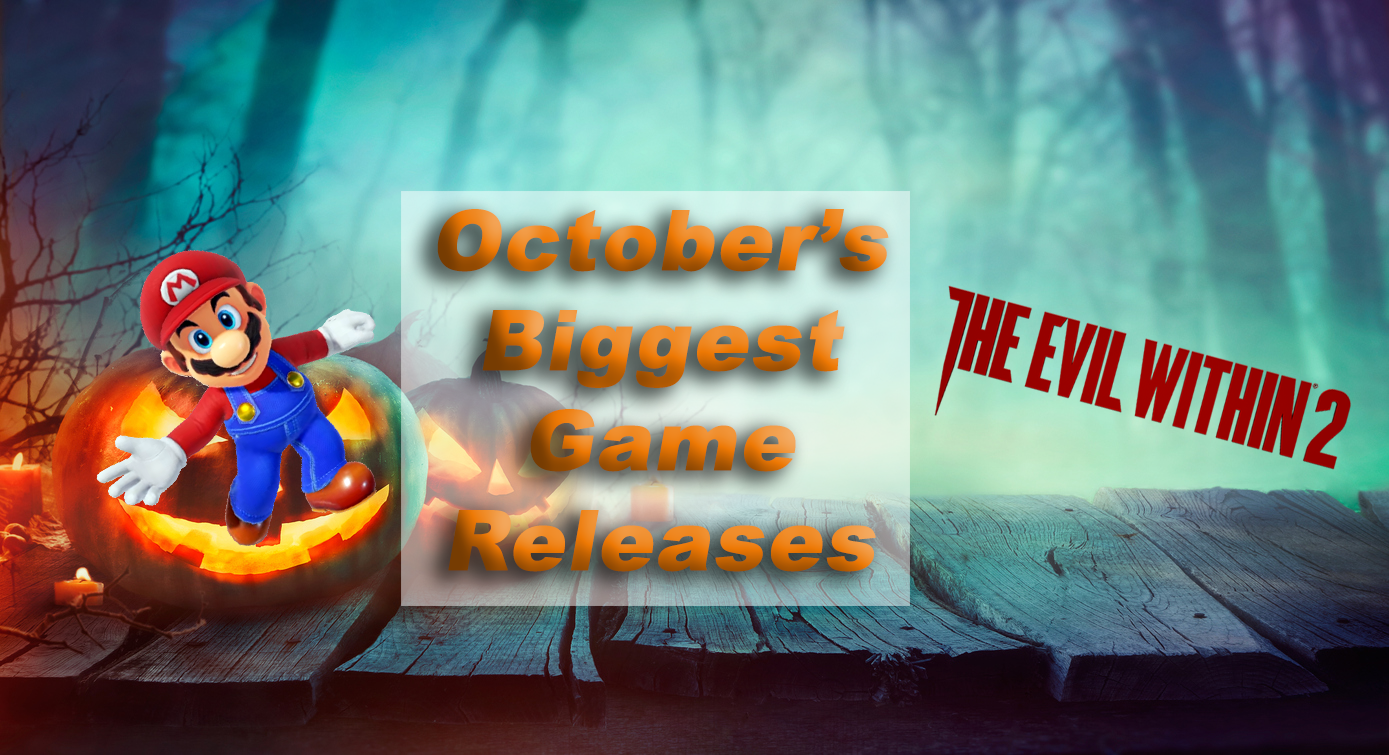 Biggest October Game Releases
With September over and every candy makers favorite month just around the corner, gamers have plenty of reasons to get excited about the biggest October game releases. While last month was exciting, October begins the season of huge launches that will surely consume our time, money, and thoughts. This month is only the start as game developers prepare to launch their heavy hitting titles, right in time for the holiday season. Make sure you check back at the beginning of every month too so you know what to spend those hard-earned dollars on!
Biggest October Game Releases
The Evil Within 2
Detective Castellanos is back, but unfortunately so is MOBIUS, an evil corporation hellbent on making the world a better place through a series of human rights violations. Without spoiling too much, our shamed police officer is hopping back into the world that started his problems to save someone most likely not worth the trouble. This horror experience is brought to you by the creator of the Resident Evil series and it shows through the creepy atmosphere, setting, and aesthetic. The perfect fit for any horror lovers collection!
Super Mario Odyssey
Everyone's favorite mushroom loving superhero is back and this time he's a wizard (sort of). Mario has the unique ability to "Capture" his enemies with the help of his trusty sentient hat. What Nintendo means to say is that our mustachioed protagonist can possess the body of almost any object, whether they are alive or inanimate. If that sounds horrifying, it's because it is! This new mechanic will surely be a treat for any fan of the mushroom kingdom and a must buy for Nintendo Switch owners.
Wolfenstein II: The New Colossus
It's time to start the second American Revolution with our good buddy B.J. Blazkowich, everybody's favorite Nazi murdering hero! Step into an unrecognizable United States and proceed to tear through every Nazi scumbag that dared to take over the land of the free. B.J. has a bone to pick and he's not going stop until his home is back to what it used to be. With a delightful cast of characters and a truck full of weapons, technology, and vehicles, this mission is more than achievable. The must-have sequel is the perfect end of the month celebration… and seriously, who doesn't love slaughtering virtual Nazis!
Every Game Release (So Far)
Forza Motorsport 7 – Xbox One, PC – October 3rd
Middle-Earth: Shadow of War – PS4, Xbox One, PC – October 10th
The Evil Within 2 – PS4, Xbox One, PC – October 13th
Gran Turismo Sport – PS4 – October 17th
South Park: The Fractured But Whole – PS4, Xbox One, PC – October 17th
Destiny 2 – PC – October 24th
Assassin's Creed Origins – PS4, Xbox One, PC – October 27th
Super Mario Odyssey – Nintendo Switch – October 27th
Wolfenstein II: The New Colossus – PS4, Xbox One, PC – October 27th
Constructor Plus – Nintendo Switch – TBA