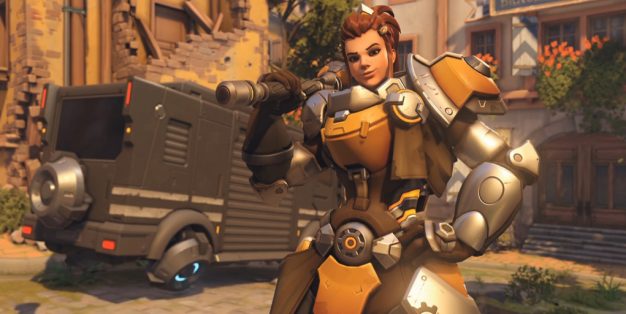 Brigitte Shield Charges to Overwatch on March 20th
The 27th Overwatch hero, Brigitte is heading to all platforms including PS4, Xbox One, and PC on March 20th. Blizzard announced this exciting news today (3/15/18) on Twitter along with an announcement post on their blog. Players that own a PC and want to try her right now, she is currently available on the Public Test Realm.
Blizzard is calling the new hero an "engineer with peerless armor constructing abilities," and she definitely shows her prowess when deployed on the battlefield. Her primary weapon is known as the Rocket Flail, which extends when used and can hit multiple heroes at the same time.
Along with Brigitte's flail, she also gets a deployable Barrier Shield, which like Reinhardt can protect allies immediately behind her. She also has the ability to throw Repair Packs to heal teammates, while her passive ability, Inspire, heals all nearby allies when she deals DPS.
Blizzard Picks Up The Pace
Brigitte was officially announced by Blizzard only a couple of weeks ago and right beforehand they revealed a lore database that will host content revealing the backstory of many of their popular heroes. To start Blizzard gave some more insight into how Torbjörn lost his arm in a tear jerking letter to his wife. With the new heroes imminent arrival, we'll be sure to show her off in action the day she becomes available to the public, so don't forget to check out our Stream Page so you know exactly when you'll have a chance to see this exciting new hero!
Brigitte Abilities
Rocket Flail – Brigitte's melee weapon has an extended range, enabling her to strike multiple enemies with a single swing.
Repair Pack – Brigitte throws a Repair Pack that can heal an ally. Any healing over that ally's maximum health provides them with armor instead.
Whip Shot – Brigitte throws her flail a long distance, dealing damage and knocking an enemy away from her.
Barrier Shield – Brigitte deploys a frontal energy barrier to absorb a limited amount of damage.
Shield Bash – Once her Barrier Shield is deployed, she can dash forward to stun an enemy.
Inspire – When she hits enemies with her flail, she also heals nearby allies over time.
Rally – She moves faster and provides all nearby allies with armor that lasts until it's removed by damage.