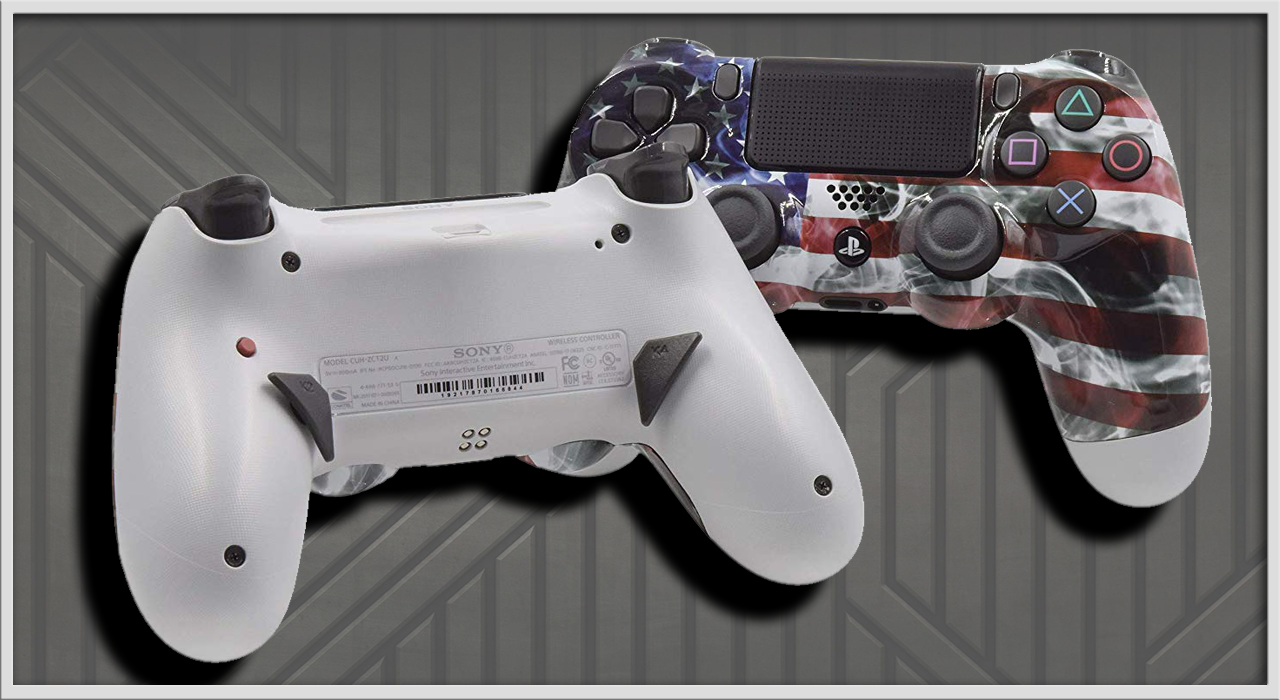 Modded Controller Review – Best PS4 Controller You Can Buy
It takes some looking around to find the best modded controller. Unfortunately, many of these controllers are over $200. Use this modded controller review to help find the best modded ps4 controller money can buy. 
We previously reviewed two PS4 modded controllers, one by Evil Controllers and one by Battle Beaver Custom Controllers. MegaModz is the latest custom controller that reached out asking for a review of their product. MegaModz offered no financial compensation for the review besides giving us the controller. They were insistent that Gigamax Games provide an unbiased review and give honest feedback on the modded ps4 controller. 
MegaModz Modded PS4 Controller Initial Impressions 
The packaging is always an important part of any physical product. Presentation counts. MegaModz nailed the presentation of their modded PS4 controller. Upon opening the brown box, it struck me as a surprise to see how it came packaged. The MegaModz controller was in what looked like a first-party PS4 controller box.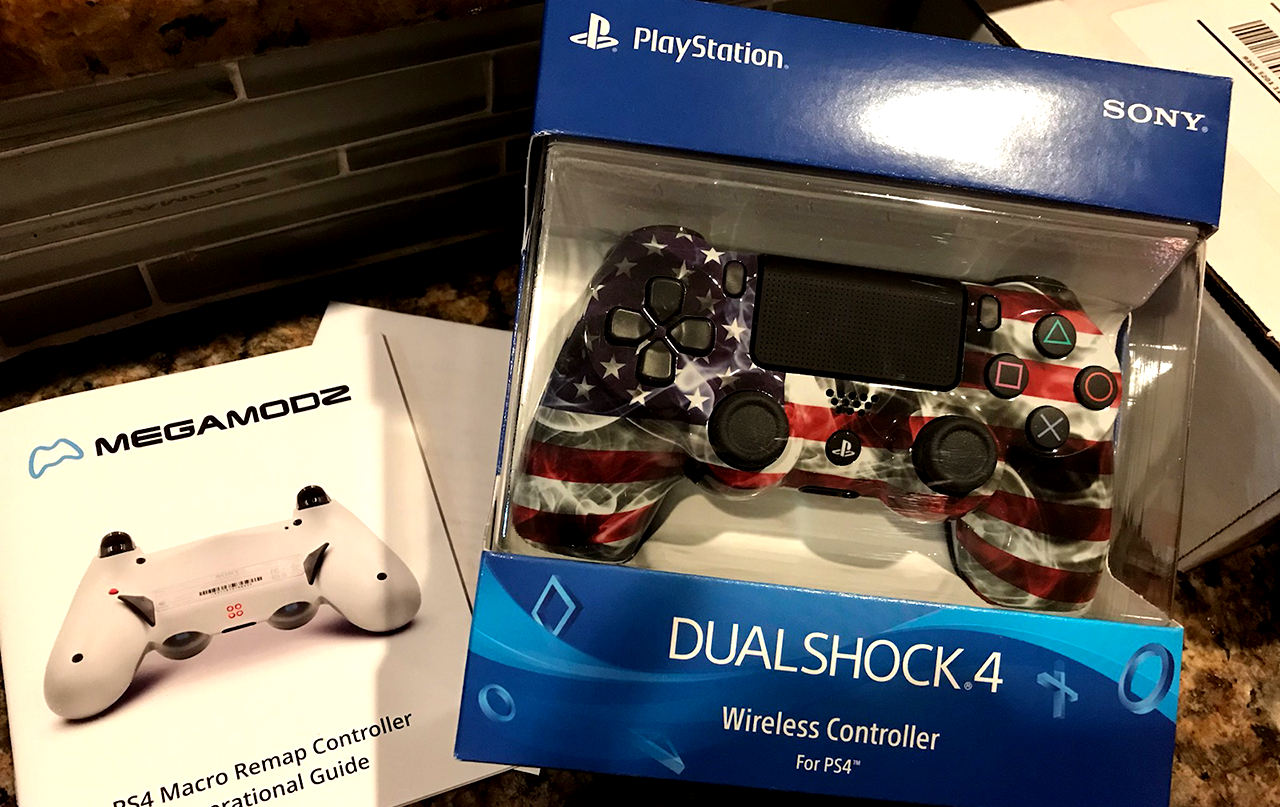 The next step was to get my hands on the controller itself. The faceplate was shiny and pristine. When holding it as if I was about to play a game, it was clear that the extra buttons on the back of the controller were ergonomic. The extra buttons, or "Macro Buttons", sit almost flush against the backplate. They are triangular and concave. This design allows the player to avoid accidental button clicks when compared to Evil Controller's Paddle/Buttons. However, they are easier to press and control when compared to Battle Beaver Customs controllers. MegaModz found a great middle ground between the Paddle and Button on the back of a modded controller.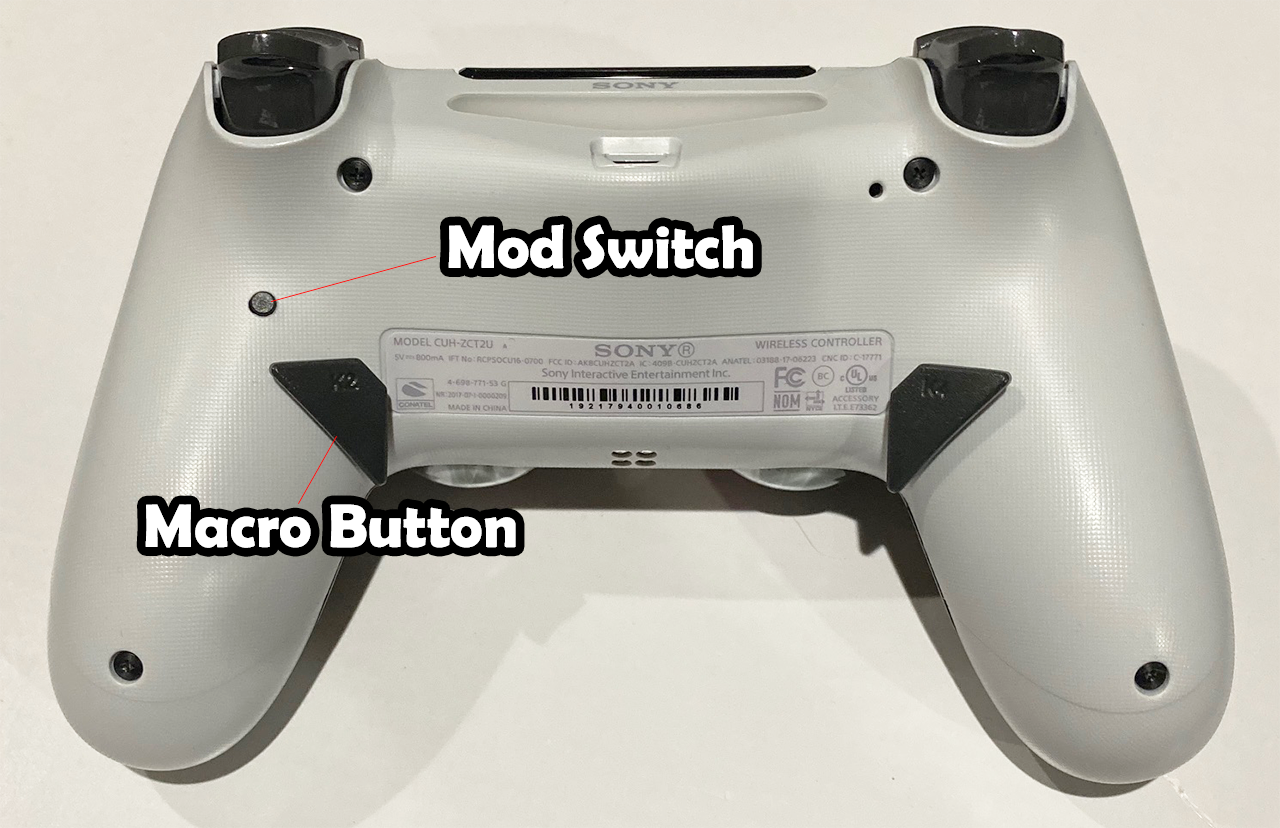 At first, I thought MegaModz modded PS4 controller fell flat when compared to some of the competition because of limited controller graphics and styles available on Amazon. MegaModz reached back out after this review was published and informed me that the listings on Amazon are their "ready to go" products. People that want to customize a controller can do so on their controller creator platform. Evil Controller's offered incredibly detailed custom options and apparently so does MegaModz. 
Modded Controller Gameplay
The first step to using any modded controller is the same, programming. On a MegaModz controller, a successfully programmed macro button is identified by an LED light pad. There are four LED lights located under the microphone input which is unique to MegaModz. The LED lights make it easy to keep track of which macro button is currently programmed. Later on, it becomes clear that there is another reason these LED lights are included. Jump to the "Modded Controllers: Competitive Advantage or Cheating" section to learn more about the real reason behind those LED lights.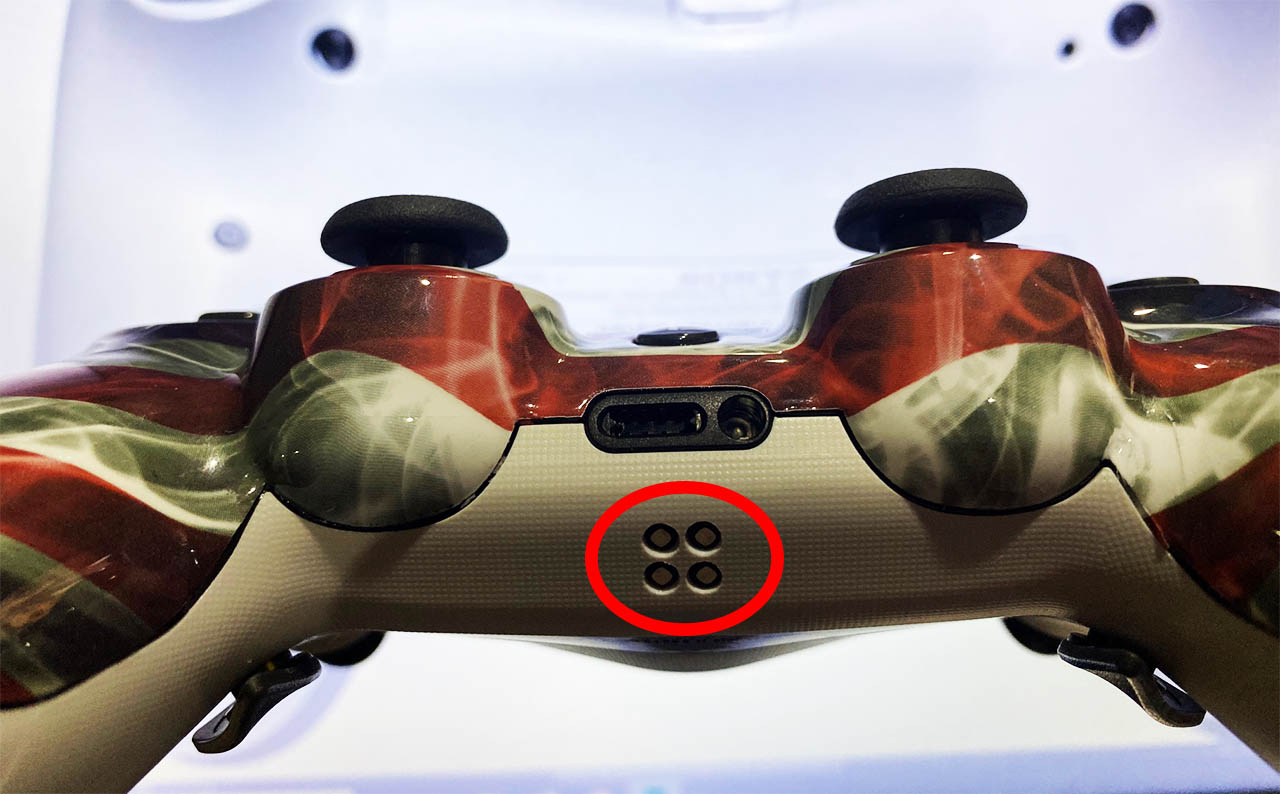 It only takes two seconds to program a stock button to one of the macro buttons. Hold the mod switch, hold a macro button, and hold down a stock button. After the LED indicator lights up and the controller vibrates, it's good to go. 
Anyone that's comfortable playing with at least two extra buttons on the back of a PS4 controller will have no problem getting used to playing a MegaModz controller. If anything, I enjoyed playing the MegaModz better than my Evil Controller for the fact I didn't accidentally click the buttons when putting the controller on the couch. MegaModz only has two extra macro buttons compared to Evil Controllers four. Those extra buttons were missed. Even two buttons down, MegaModz macro buttons were easier to manipulate and allowed for a more comfortable and natural gaming grip.
For people picking up a modded controller for the first time, it will take some time and practice. After a few hours and a couple of different program setups, those two extra buttons become a natural extension of the controller. Practice makes perfect. Each game may require different stock buttons programmed to macro buttons but it's incredibly simple to reprogram on the fly. 
Modded Controllers: Competitive Advantage or Cheating?
MegaModz has features far beyond a normal modded PS4 controller. Many already consider it cheating to use these extra buttons on the back of a controller. MegaModz pushes the limits of ergonomic gaming and pushes the boundaries of cheating.
MegaModz programmable macro buttons go beyond just allowing you to program stock buttons. Different sub-modes enact specific actions. At this time, I haven't attempted to assign sub-modes to the macro buttons. Two reasons held me back from giving this a try. 
The first reason I didn't try the sub-modes yet is that it made me nervous. Below I break down each sub-mode available with the MegaModz controller. 
| | | | |
| --- | --- | --- | --- |
| Sub-Mode |  Function |  Notes | Adjustable Values |
| 2 | Turbo Function | Press and hold the Macro Button and the modchip will press and release the assigned stock button | The time between button presses and the time the button is pressed can be adjusted |
| 3 | Turbo Double Tap | Click a macro button and the modchip will press the assigned stock button twice (Double Tap) | The time between button presses and the time the button is pressed can be adjusted |
| 4 | Turbo Triple Tap | Click a macro button and the modchip will press the assigned stock button 3 times (Triple Tap) | The time between button presses and the time the button is pressed can be adjusted |
| 5 | Continuous Press | Click a macro button and the modchip will continue pressing the assigned stock button the amount of time that has been configured | The time the button is pressed can be adjusted |
All those sub-modes outlined above are dangerously close to cheating. A friend of mine mentioned that some online games watch for perfect multiple button presses and will automatically ban individuals for using non-compliant software or hardware. This claim is unconfirmed but I wasn't going to take the risk. 
*Update* MegaModz informed me that this controller is perfectly legal to use online. Apparently you cannot get banned by using macros. This video showcases a controller officially licensed by SONY, manufactured by NACON, and offers macros just like MegaModz controller.
Deciding against using the MegaModz controller sub-modes during an online game, I turned my attention to single-player games. This brings me to my second reason why I didn't try out sub-modes. 
MegaModz controllers come with a PS4 Macro Remap Controller Operational Guide. It includes instructions on how to program the controller, all its different functions, and advanced programming options. Contact information can be found in the guide if people need help navigating the advanced programing options or if they have customer support questions. The representative that reached out about conducting the review said to me that I can reach out if there are any questions. None of that made a difference. 
After reading through the instructions on how to work sub-modes, I mostly understood the concept. Then it moves into programming the milliseconds between button presses. The guide uses MegaModz controller-specific terminology I wasn't quite familiar with, and I took a step back from diving deep into the sub-mod programming options. The weekend consisted of paying attention to how comfortable the controller was and how easy it was to program and reprogram stock buttons to the macro buttons. In all honesty, it seemed a little overwhelming to program the sub-modes. I assume it's not as complicated as it sounds on the surface. All it will take is careful reading and understanding the terminology specific to this controller. 
Expect an update over the next couple weeks where I will dive deeper into the sub-modes. Still, I will only be using the sub-modes exclusively offline. 
MegaModz Final Thoughts
MegaModz is offering an interesting product. The fact it only has two macro buttons is also a bit of a drawback. MegaModz controllers truly stand out because of two aspects, it's ergonomic macro buttons and the advanced programming options.
Macro buttons, as MegaModz calls them, are close to the backplate and fit fingers well. It's easy to avoid accidental button presses which can mean the difference between winning a round of Rainbow Six Siege or looking like an idiot on the kill cam. However, nothing comes close to the sub-mod macro programs and incredible control a person can have when programming the adjustable values. Players can control how many milliseconds between each Double Tap or Tripple Tap, a feature not found in most modded controllers.
For the affordable price of around $155 after-tax, you can take home a MegaModz controller. This controller includes questionable programmable options like the sub-modes but they don't have to be used. MegaModz is a great option for anyone that wants an affordable modded controller that also has some fun programs to experiment with off or online.